Porthleven - When Will the Market Open in 2021?
Posted on
Having only been able to open sporadically in 2020, Porthleven Harbour Market in Cornwall is gearing up to start up once again, on Tuesday 13th April 2021, restrictions permitting of course. With its beautiful position, situated outside on the harbour front, it's definitely well worth a visit if you're planning a trip to South West Cornwall. You'll be spoilt for choice with the array of Cornish gifts on offer.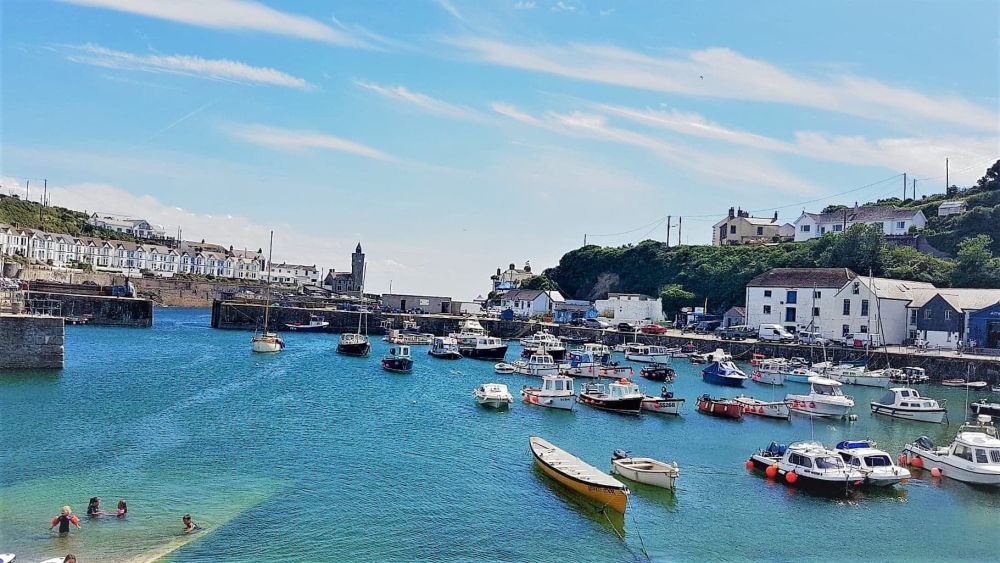 This artisan, open-air, crafts and gifts market has been running for many years, with market traders selling their wares from various places in the harbour area.
First, there's those in gazebos on the green along the water's edge – wonderful little gazebos filled with lots of Cornish gifts and goodies galore.
The colourful beach huts to the side of the harbour are home to more Cornish traders, with their lovely gifts and treasures spilling outside and displayed on the open doors.
You're sure to also notice the purpose built wooden pergolas, just past the beach huts. Here, there are 7 spaces for yet more market traders – step off the road and peruse their gift offerings, displayed beautifully for all to see.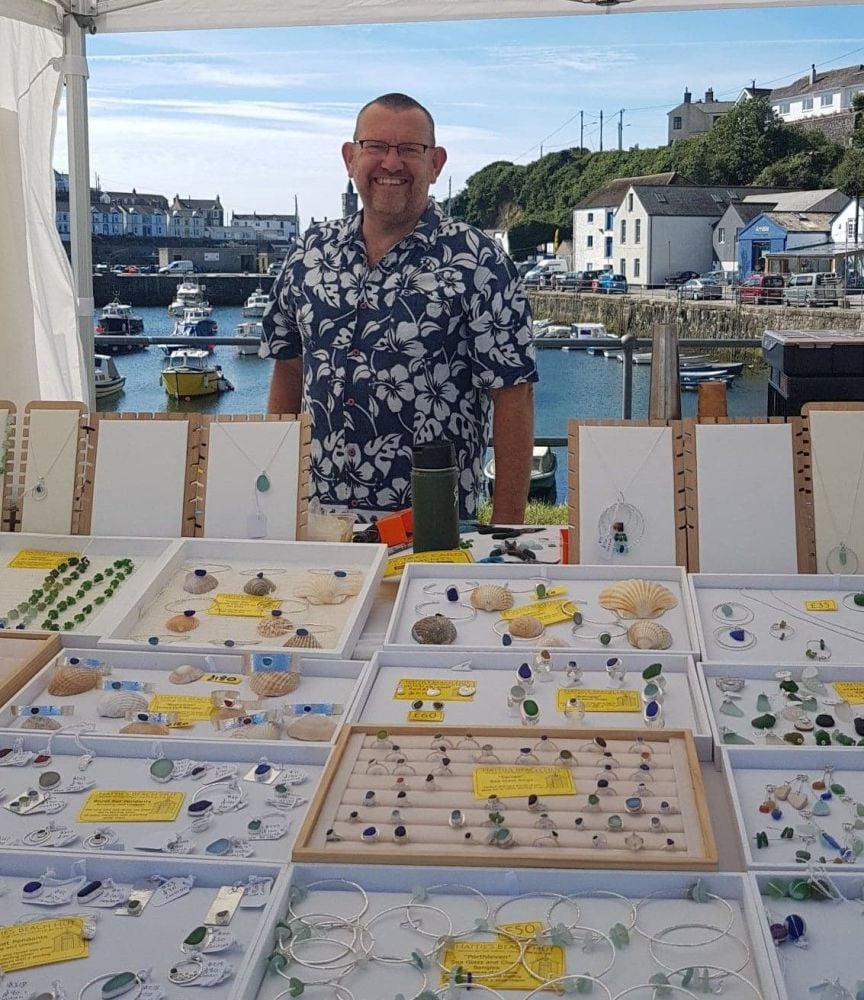 Whether you're looking to buy a few Cornish gifts to take home with you for loved ones, looking for a few souvenirs from Cornwall, or just wanting to treat yourselves, you'll be amazed by both the quality and the assortment of what's on offer at the market in Porthleven. The friendly traders will be tempting you with:
Jewellery – silver, gold, pearls, seaglass plus more

Clothes – a wonderful assortment

Photography – beautiful local shots

Artwork – paintings for every taste

Plants – succulents galore

Pebble Pictures – divine

Gifts and souvenirs – a wide range of Cornish gifts and homewares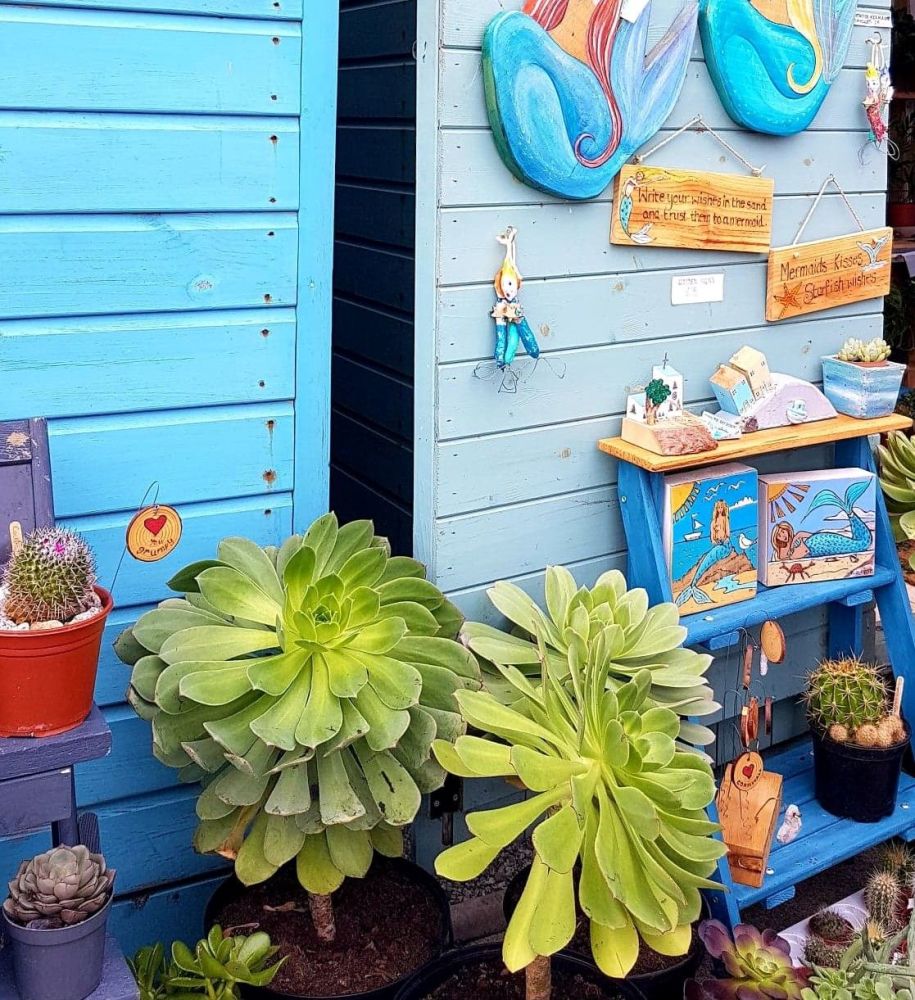 Will Cornish Magpie be at Porthleven Harbour Market this year?
The answer is yes – most definitely.
With many events this year already cancelled in Cornwall and all around the country, and with many others yet to confirm if they'll go ahead, the only place you'll definitely find Cornish Magpie is in Porthleven, trading at the harbour market, in one of the purpose built wooden pergolas. Of course, other events may go ahead but for now, this beautiful local market is where I'll be trading with all my range of gifts, homewares and crafts. Please do come and say hi, it would be lovely to see you if you're on a holiday or short break to Cornwall. I'll have so much on display for you; it's going to be exciting to get back into the swing of things.
Teatowels

Chopping Boards

Mugs

Coasters

Magnets

Washbags

Soaps

Purses

Dog Bandanas

Plus lots lots more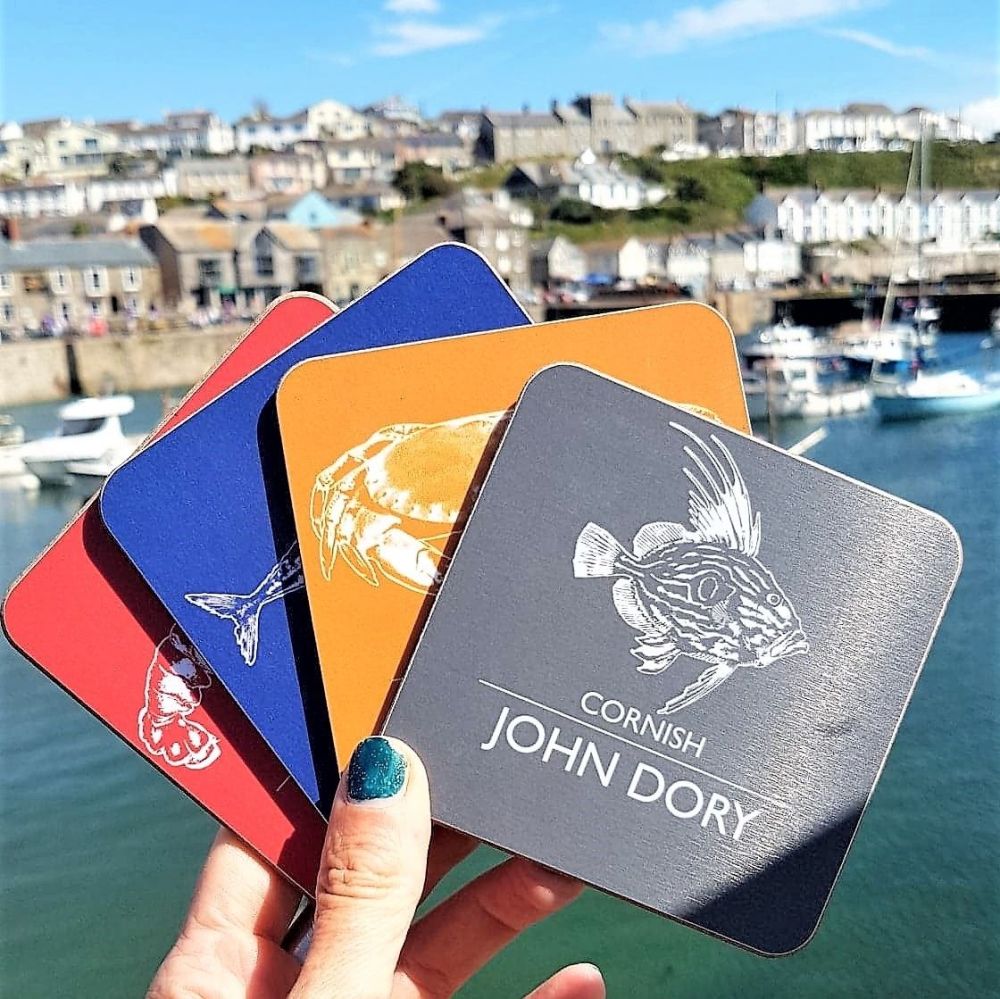 What days is the market open?
Porthleven Harbour Market has updated opening days for this year. They're as follows:
April, May and June – Tuesdays, Thursdays and Sundays

July, August and until 12th September – open 7 days a week
13th September til end of October – Tuesdays, Thursdays and Sundays
The market hours are 10am til 5pm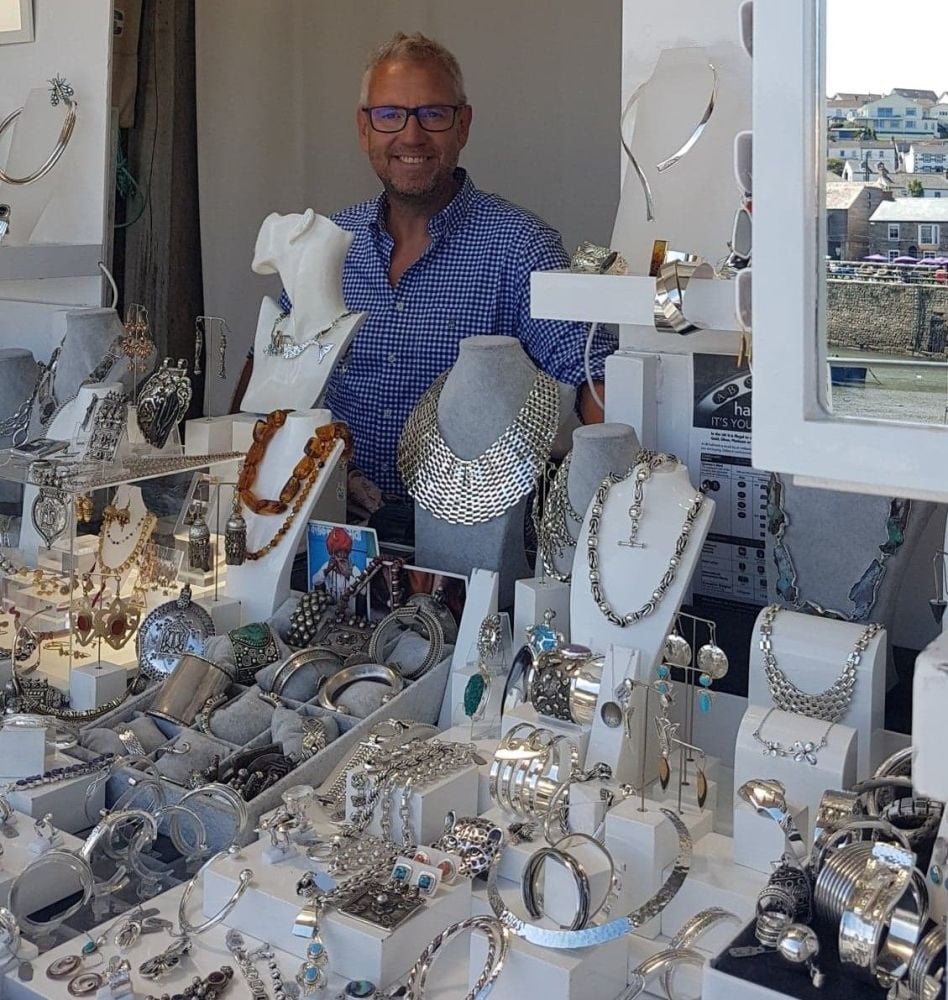 What if I can't make it to Porthleven Harbour Market?
If you'd love to have a look at my range of gifts for Cornwall lovers, you'll always find me online. Granted, it's not the same as buying directly or browsing everything at a Cornish market – but as with all my fellow traders, we love our online customers equally. Each and every sale, whether at a market or an online order, puts a smile on our face, so please support local whenever you can.
Throughout the pandemic, a lot of time has been spent improving my online offering. The website has had a huge overhaul, hopefully more informative and user friendly for everyone.
The Cornish gifts and homewares ranges are always evolving and lockdown has seen several new designs completed – please do let me know if you like them, it's always lovely to get feedback from you. The Nautical range has been extended and there are changes in the pipeline for both designs and products too…watch this space.
Breaking News
Did you know that you can now find a range of my Cornish gifts at the beautiful Pisky Cove, on the harbour front in Porthleven? So even when I'm not there…I am.
They're stocking most of my range and if there's anything they don't have…they can get it the same day in most cases.
This wonderful Cornish shop is full of crafty loveliness:
The Crafty Crab – beautiful hand knitted and handmade items

Cornish Magpie – coastal inspired gifts and homewares

Hamilton Glass Art – fused glass

Stuart Wheeler Photography – local scenes and ocean shots

Wool, wool and more wool – you'll be spoilt for choice

Women's clothing – gorgeous dresses, dungarees, skirts and more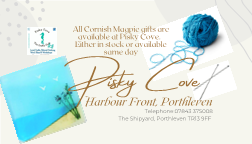 New for 2021
A new indoor market in Porthleven is planned for this year in the former metal works building in the shipyard. It's hoped this will be ready to open in time for the summer here in Cornwall. So even when the weather is inclement, you'll still be able to browse locally made Cornish gifts and produce undercover.
Keep an eye out on the market website for more information and updates.
www.porthlevenharbourmarket.com
In Summary
So, uncertain as things presently are, I'll say and tentative 'See you very soon' from here in Cornwall. Time will tell if the market can go ahead and stay open throughout the season. But I'm hopeful that the future is bright and that we can all travel soon, enjoy our breaks and make happy memories.
Stay safe everyone, be kind to yourselves – and to one another.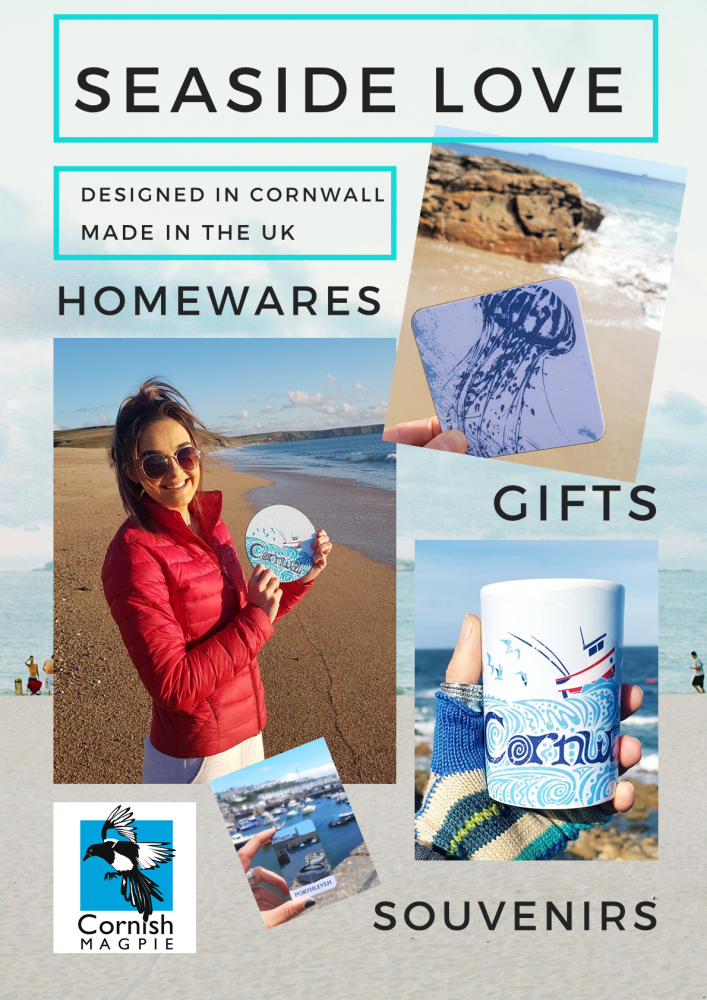 Cornish Magpie sell an array of beautiful gifts, via market stalls in Porthleven (and elsewhere – check 'Events' on the website for details), via their website and also Etsy. If you love the seaside and all things coastal, have a little look, browse at your leisure, I hope you find something you love. And if you're on Facebook, follow Cornish Magpie here, or on Instagram here.